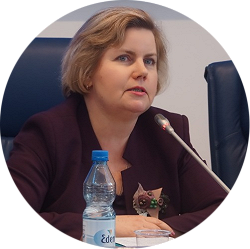 Dear friends and colleagues,

Welcome to the website of the Competence Centre for Cooperation with International

Organizations (IO-HSE Partnership Centre), founded on the basis of the Information and Coordination Centre for Cooperation with the OECD (OECD-HSE Partnership Centre). Since the Centre's launch in 2004, we have gained a wealth of experience in analytics, cross-country research and sharing our country's best practices with the OECD as one of the most reputable international platforms. This background will serve us well in our future work.
The transformation of our Centre in 2019 came in response to new challenges and tasks that confront the University, the country, and the world community.
Given Russia's cooperation priorities, our current activities are focused on both global institutions and regional groupings, primarily the UN, its specialized institutions and regional commissions, the OECD, the WTO, the Group of Twenty, the World Bank Group, BRICS, the SCO, the EAEU, the EU, the CIS (Commonwealth of Independent States), the Belt and Road Initiative. Special emphasis will be put on the country's stance in these institutions and possibilities for promoting national interests at the most reputable international platforms.
Such key areas of international cooperation as sustainable economic growth, further trade liberalization, digital transformation, ensuring decent living standards, food security, breakthrough technologies and innovations, combating climate change, building smart cities and spatial development are among our professional concerns.
Our tasks include:
research and analytics in topical areas of international cooperation with the involvement of relevant experts from the research and educational departments of the HSE;
rapid assessment of international cooperation issues at the request of the Government of the Russian Federation and federal executive bodies, including the Government Commission for Economic Development and Integration and the integrated plans of interaction with international organizations approved by the Government of the Russian Federation;
ensuring the participation of HSE representatives in (inter)departmental working groups on interaction with international organizations;
facilitating the inclusion of HSE experts in international expert networks and professional communities;
holding joint events with international organizations on the HSE premises;
organization of training programs on international standards and best practices, including possibilities of their implementation for socio-economic development at supranational, national and regional levels;
involvement of HSE students in the project and research activities concerning global economic regulation (i.e. the Centre will perform the functions of an educational laboratory);
informing professional communities about developments in cooperation with international organizations (preparation and distribution of information and analytical bulletins, newsletters, scientific publications; maintaining the Centre's website and social networks).
---
For further enquiries about the Centre's activities, please contact Tatyana Meshkova, the Centre's Director, via phone number +7 (495) 772-95-90 or e-mail: tmeshkova@hse.ru.
Have you spotted a typo?
Highlight it, click Ctrl+Enter and send us a message. Thank you for your help!
To be used only for spelling or punctuation mistakes.